Annual Reports
Caring about you by providing Financial Support in times of NEED.
SUSTAINABILITY The National Insurance Board of Trinidad and Tobago (NIBTT) performed commendably during the reporting period in spite of a challenging economic environment. This environment, combined with major job losses in key sectors, would have impacted on the number of employed persons contributing to the National Insurance System (NIS). Any change in labour market conditions which results in large numbers of persons losing their jobs will adversely impact the NIS as contributions are not remitted to the NIBTT on their behalf. In this regard, we must, therefore, adopt an even more vigilant approach to monitoring the prevailing economic and labour market conditions, in an effort to be proactive in our initiatives to counter any adverse developments.

REDEFINING SERVICE
Over the years, the NIBTT has provided a safety net for its beneficiaries in Trinidad and Tobago and beyond. The successful operation of the country's mandatory social security system is indeed a great achievement and one, collectively, we should feel very proud of as citizens continue to collect their benefits. The national community must take great comfort in knowing that the NIBTT will always be here for them.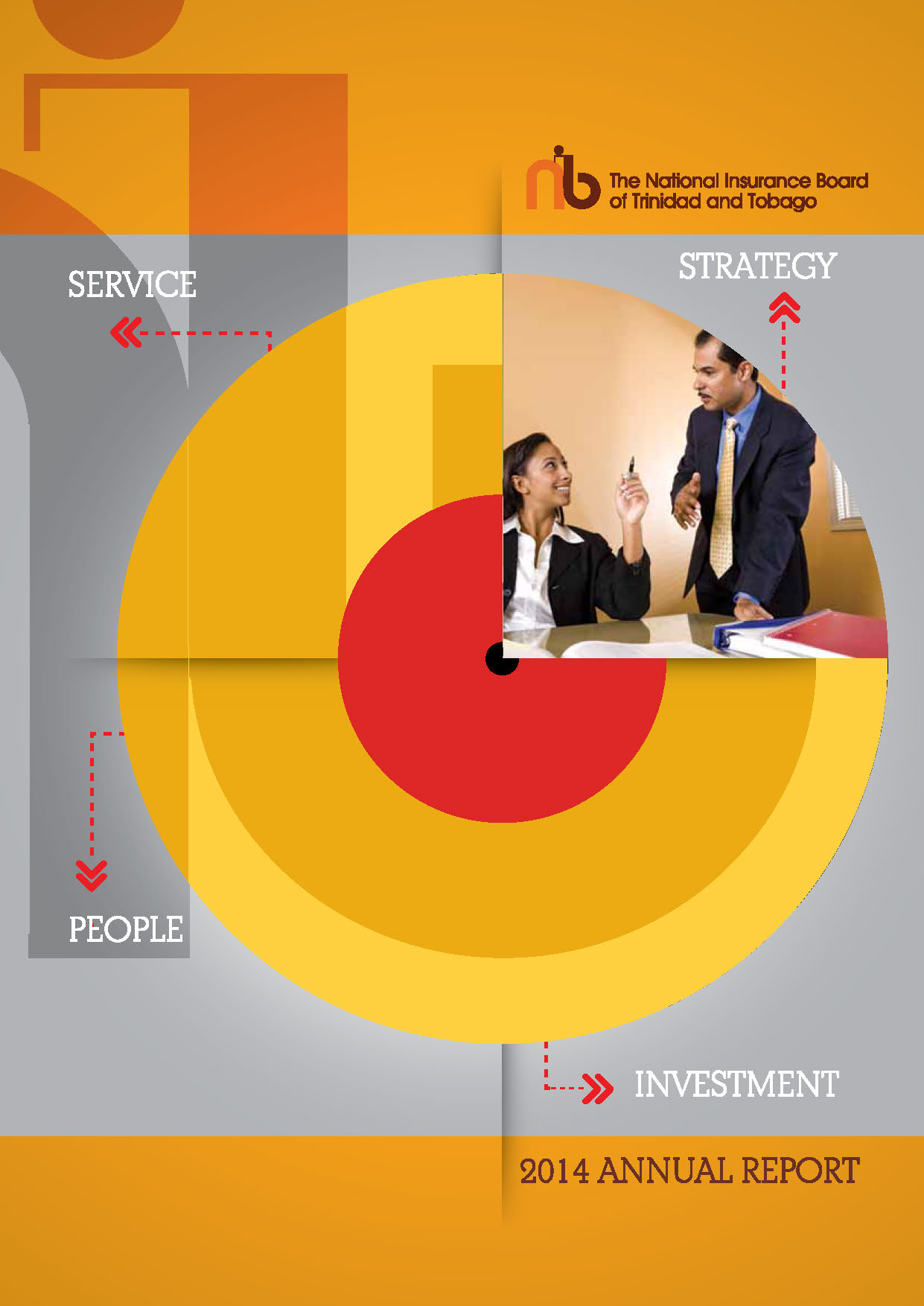 OUR STORY CONTINUES TO UNFOLD

This year marked the first year of the organisation's three-year strategic plan, Vision 2016 – Building the Platform for Transformation. The plan takes into account, among other things, the organisation's renewed customer service focus, strengthening of relationships with key stakeholders and implementing measures to treat with operational issues. In essence, the plan charts the roadmap that will propel the National Insurance Board of Trinidad and Tobago (NIBTT) into becoming an organisation that possesses the requisite systems, structures and capabilities to achieve the objectives as detailed in our shared vision of Excellence in the provision of Social Insurance products and services.

OUR STORY UNFOLDS

As the story of National Insurance unfolds, we must look back at the accomplishments and challenges of Financial Year (FY) 2013 while we chart the way forward for the current and upcoming year.
40 YEARS OF SERVICE EXCELLENCE
Every touch leaves an impression, and for over 40 years, the National Insurance Board of Trinidad and Tobago (NIBTT) has left an indelible mark upon the lives of our 600,000 plus valued customers. We are a dynamic organisation born out of the need to safeguard the financial future of our people against the economic and social distress caused by loss of earnings arising out of retirement, work–related injuries and other contingencies.

EMBRACING CHANGE
The NIBTT's postition as a social insurance organisation enabled us to take a look at our financial sustainability and implement strategies designed to serve the best interests of our customers––the very reason that the
NIBTT exists.
EXTENDING OUR CARE
The NIBTT is an exceptional organisation defined by people of integrity and character, who are proud of their past and passionate about their future. I am inspired by the mandate of the NIBTT and excited and energised about what we can achieve for the people of Trinidad and Tobago.

SECURE
The NIBTT's performance over the period July 2008-June 2009 was reflective of the strength and flexibility of our organisation and the unique and resilient culture of our management and staff that allowed us to meet the special challenges locally that were caused by the severe turbulence in the international financial sector.
GROWING ON A STRONG FOUNDATION
"We are excited by the possibilities of how, together with our stakeholders, we can bring this remarkable organisation into its next phase of leadership and discovery."
CELEBRATING 35 YEARS
Our 35th financial year (2006/2007) was
dedicated to developing methods to improve
efficiency, add value and increase the product
range for our stakeholders.


CREATING EXCELLENCE
For the first time 127,832 beneficiaries of the National Insurance System (NIS) collected more than one billion dollars in benefits. This is indeed a significant achievement for any organisation but more so, for the NIBTT, an organisation mandated to provide social insurance benefits to the employed population of Trinidad and Tobago and their dependents.

We Are Stronger Together
Financial year 2004/2005 was an excellent year. We were able to pay a greater number of persons improved benefi ts in fulfi lment of our commitment to deliver social insurance products and services that satisfy the needs of the population.

We are pleased to report that we were able to achieve a smooth implementation of these amendments which provided insured persons and their beneficiaries with substantial increases in benefit payments, with a minimal increase of 1.5% in the contribution rate to be spread over the three-year period commencing March 1, 2004.