Visit our Pension Ready Booths between the hours of 11:00 a.m. and 3:00 on the following dates: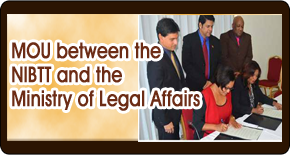 The National Insurance Board of Trinidad and Tobago (NIBTT) entered into a Memorandum of Understanding (MOU) with the Ministry of Legal Affairs on Wednesday 26th February 2014.

The registration process of the NIBTT ensures that Employers and Employees are assigned registration numbers by which they can be uniquely identified. For example, in instances where insured persons may have the same name, this unique registration number ensures that all data relating to a specific individual is correctly recorded and maintained.